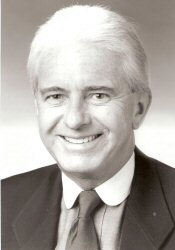 Bernie Armstrong:
John Bernard Armstrong, Jr. ("Bernie") died on Friday, December 21, 2007, in Pleasanton, California, after a long battle with cancer. Bernie was the son of the late Bernie Armstrong, Sr., well-known Pittsburgh entertainer and Musical Director at KDKA Radio in the 1930s and 1940s. His mother, Dorothy Bushey' Armstrong, was a former Pittsburgh stage personality who worked with Dick Powell and Gene Kelly at the Enright and Stanley Theatres.

Born in Pittsburgh in 1935, he was a graduate of Edgewood High School. After attending the University of Miami and a four-year stint in the U.S. Navy, Bernie enjoyed a successful career in the music business. Recording four albums & numerous singles for Warner Brothers and Kapp Records with such early '60s "Folk" groups as The Steeltown Two, Bud Dashiell & the Kinsmen, The Easy Riders with songwriting legends, Terry Gilkyson and the late C. Carson Parks of Pittsburgh.

A 40 year career in broadcast began in 1964 and included a stint as Music and Program Director at WTAE Radio, working with personalities Larry Obrien, John Gary, Mryon Cope and Bill Hilgrove, among others. After moving to Honolulu, Hawaii in 1973, and pursuing his career in TV and radio, he became General Manager of a four-station radio group in Honolulu, followed by the launch of Hawaii's CNN News Affiliate, KHNR, serving as V.P. and General Manager. During a lengthy television & radio career in Honolulu, he served as a two-term President of the Hawaii Association of Broadcasters.

Bernie retired in 2003 to Southern California. Though he grew up in Pittsburgh, he considered Hawaii to be his home. Burial will be in Hawaii.

He is survived by his mother, Dorothy B. Armstrong of Pittsburgh; his 5 children: John B. Holt, Pittsburgh, Marti Holt, Carey, NC, Adam Armstrong, Ventura, CA, Kelly Cambra, San Ramon, CA, Malia Armstrong, San Francisco, CA; two sisters, Leslee A. Stockhausen, Mt. Lebanon, PA, and Tracy A. Taylor, Houston, Texas.

From Leslee Stockhausen
Administrative Assistant
Vista Resources, Inc.
61 McMurray Road, #300
Pittsburgh, PA 15241
(Jan 3, 2008)


-30-

Click your

Back

button to return.